Product Details
Ritual Journal — 30-page eBook
for Sacred/Strategic Planning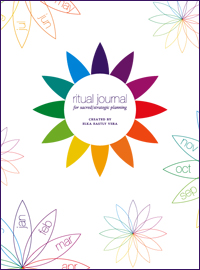 This digital format journal will help you bring a sense of the sacred to your strategic life planning.
You get 12 seasonal rituals — one for each month of the year — with journal pages for you to print out and write in. You also get a planning wheel to map out your year.
The rituals are simple, practical, and contemporary — based on my experience as a coach, hypnotherapist, and Goddess spirituality facilitator.
People Are Saying
"This ROCKS!"
— Colette in Sebastapol
"The Ritual Journal is AWESOME!"
— E. in Oakland
"I used a combination of the Ritual Journal eBook and your Live Your Light! planning tool in my personal New Year's ritual. They were fabulous!"
— Talia in Oakland
"Elka, your Ritual Journal is lovely. It's great to have a monthly touchstone for aligning with my purpose. I just did the January ritual and it brought me home to myself in a powerful and unexpected wayl!"
— Jyoti in Rockridge
©1999-2013 Elka Eastly Vera, M.A. — Author, Artist, Transformative Coach